Newspaper Rontaler Ebikon, Switzerland, Thursday 10. January 2019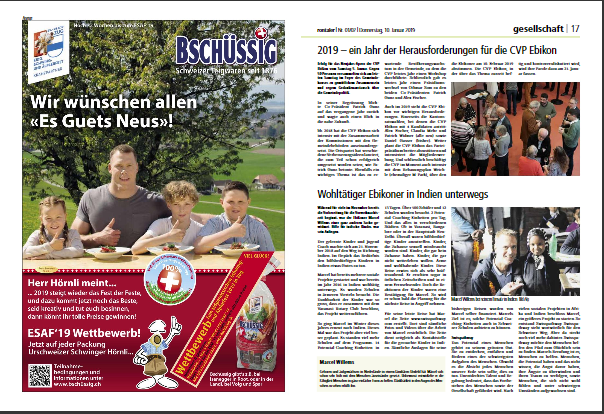 PDF Rontaler Report SwissPathWay
Weblink Rontaler report SwissPathWay
Webversion Rontaler report SwissPathWay
Google Translation English Webversion Rontaler report SwissPathWay
Translation English
While for many in November the preparation for the pre-Christmas season begins, the Ebikoner Marcel Willems was dedicated to a very different matter. Help for Indian children was his concern.
The trained children and youth coach set off on November 21, 2018
Towards India. In the luggage the need to do something good for the needy children in India.
Marcel has already started several social projects and has been charitable in 2016 in India. Schools in poorer neighborhoods were visited. The gratitude of the children was so great that, together with the Varanasi Rotary Club, he decided to continue the project.
So Marcel went back to India in the winter of this year. This time the project was much better planned. There were many more schools on the program. 14 potential coaching units in 13 days. Over 500 students and 12 schools were visited. 2 potential coaching units per day. And all in different cities. Whether in Varanasi, Bangalore or in the capital New Delhi. There were needy children everywhere. Children who have been sexually abused at home. Children who have no home. Children who do not want to go on living. Poor and wealthy children.
This trip turned out to be very exhausting. He even appeared in local magazines and on a television station. But the reactions of the children were a confirmation for Marcel. So he will soon start planning for the next trip.
For his last trip, Marcel has created the site www.swisspathway.com. There you can see all photos and videos about the work of Marcel. The site serves as a contact point for the coached children in India at the same time. All expenses for his previous trips were financed by Marcel himself. Marcel's goal is to be able to offer such potential coaching units in Swiss schools as well.
Swisspathway
The potential of a human is one of his greatest assets. To discover, unfold and promote one of the most difficult tasks of man. Although it should be the intention of every person on earth to do so. Undiscovered talent and talent means that the continued existence of humans and society is endangered.
After many social projects in Africa and India, Marcel decided to start a larger project. That's how Swisspathway came into being. Swisspathway literally stands for the Swiss way. But there is a lot more behind it. Swisspathway wants to help people find the path to happiness. Marcel's calling is to help people. People who have potential, who do not know it, who are afraid to overcome their fears and pursue their dream, as well as people who do not feel well and have grown up in difficult circumstances.
Marcel Willems
Born and raised in the Netherlands in a family environment, Marcel started to deal with humans at an early age. He unconsciously developed the ability to help people in a very simple way. Seeing gratitude in the eyes of man fills him.